Community News
Laurel Awards
Community Support
Relationships and Community are two of Duncan Craig's cornerstone values. We believe that these values are integral to why we have been able to continuously provide legal services to Albertans over the past 120 years. We are proud to provide annual support to dozens of charitable organizations, scholarships, school groups and fundraising initiatives.
Created as part of our 100th anniversary celebrations, the Duncan Craig Laurel Awards is held each year to recognize and provide financial awards to innovative non profit organizations. While normally there are three winners selected, 2012 saw the introduction of a staff choice award. This award winner is selected by a vote of our staff for the organization or program that they would most like to support.
One of our initiatives is to give each staff member a paid half day of work to volunteer at an organization of their choice. You can see some pictures of their activities on the side. Most recently, we have created the Duncan Craig Community Fund through the Edmonton Community Foundation. Please take a moment to look around and do not hesitate to contact us if you feel we might be able to support your organization in some fashion.
Duncan Craig Volunteers at Meals on Wheels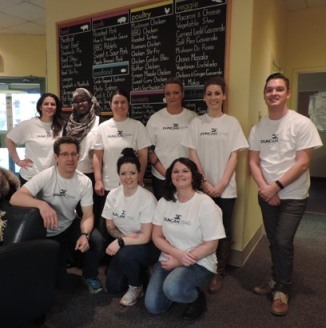 This morning, two lawyers and seven staff members volunteered at Edmonton Meals on Wheels. We chopped, sliced, and assembled meals for our community. Edmonton Meals on Wheels is a local non-profit and registered charitable organization that provides home-delivered meal and food services to a diverse mix of people. On any given day they need up to 45 volunteers to work in the kitchen. If you can help out visit the link below.
2015 Duncan Craig Community Fund Recipients
We are pleased to announce this year's recipients of the Duncan Craig Community Fund as voted by our staff and lawyers. Congratulations to the Stollery Children's Hospital Foundation, CEASE and Kids with Cancer Society. The Duncan Craig Community Fund began in January 2013. Funds are raised through various fundraising events such as auctions, charitable fundraisers and fitness challenges. Duncan Craig lawyers and staff nominate and then vote for not for profit organizations in the Edmonton area that have special significance in their lives. The Duncan Craig Community Fund is administered through the Edmonton Community Foundation (ECF) which provides a valuable bridge between donors and Edmonton charities in order to facilitate the creation and maintenance of a strong, vibrant community.
Christmas Donation Drive Wrapped Up
This past month the staff and lawyers have been busy collecting some urgently needed items for WIN House including pillows, diapers and can openers. Today we wrapped up our Christmas Donation Drive by dropping off the donated items to WIN House. WIN House provides emergency shelter and comprehensive support to women and children fleeing domestic abuse. If you would like to help out, please visit www.winhouse.org.
Duncan Craig Volunteers at the Hope Mission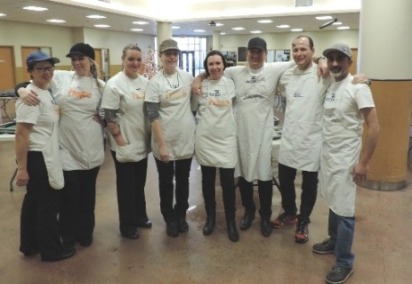 Today a group of Duncan Craig LLP lawyers and staff helped prepare a meal at the Hope Mission. In 1929, Reverend Harold Edwardson established a soup kitchen in Edmonton's inner city serving meals to hundreds of people struggling with unemployment and homelessness at the onset of the Depression. They have grown into a not-for-profit Christian social care agency caring for impoverished and homeless men, women and children in Alberta.
Duncan Craig Participates in the Boston Hope Party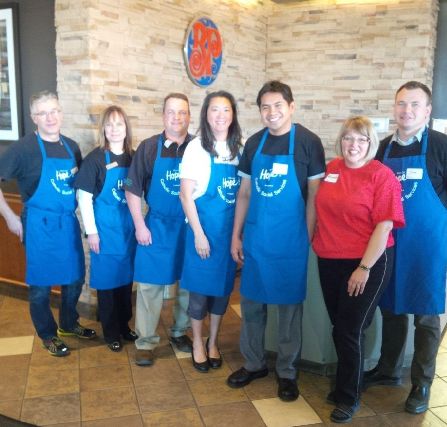 On October 15, partner Mae Chow was serving up hope at the Drayton Valley Boston Pizza in support of Catholic Social Services Annual Sign of Hope Campaign. Catholic Social Services is a multi-function social service agency that serves people of all faiths and cultures throughout central Alberta offering programs to over 60,000 people each year.
Duncan Craig Runs for the Cure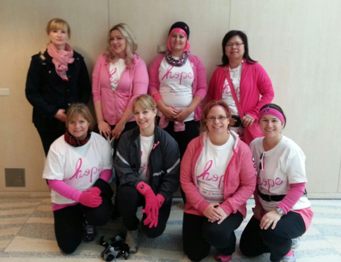 The Duncan Craig LLP Running Team, #DCcares, joined over 7000 runners and walkers in this year's CIBC Run for the Cure in downtown Edmonton. The one-kilometre walk or five-kilometre run, raised over $1 million dollars for the Canadian Breast Cancer Foundation. The event is held annually in more than 60 communities across Canada.
Congratulations to the Laurel Award Winners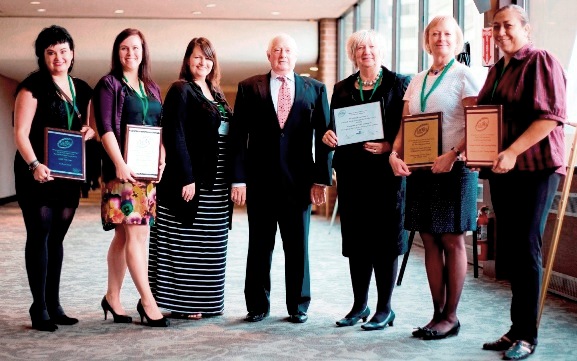 Congratulations to this year's Duncan Craig LLP Laurel Awards. For 21 years we have been celebrating the innovation and creativity of non profit organizations in Edmonton and surrounding communities. From the 56 nominated programs, the winners are: GOLD: Uncles & Aunts at Large (Edmonton Area) Society Strengthening Families Program for At-Risk Youth SILVER: Gateway Association We Belong App BRONZE: Nehiyaw Kakeskewina Learning Society Maskwacis Life Skills Training Program STAFF CHOICE: Little Warriors Be Brave Ranch Duncan Craig LLP staff member Maria Barbosa presented the Staff Choice Award, His Worship Mayor Don Iveson presented the Bronze, The Honourable Robert E. Wanner, Speaker of the Legislative Assembly presented the Silver and John Mahon and Chris Gusen from Make Something Edmonton presented the Gold. John and Chris were also our Keynote Speakers for the luncheon. Thank you to everyone who attended and we look forward to next year.
Duncan Craig Volunteers at The Mustard Seed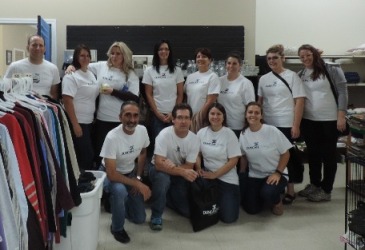 Two partners and 10 staff members spent the morning sorting items at the Mustard Seed. The Mustard Seed began in 1988 in the old Central Baptist Church on 96th Street where it became a staple for low-income individuals and families. Today, hundreds of people rely on the organization for food, clothing, counselling and other support services such as housing assistance, employment coaching and spiritual development. We were happy to help out today.

Recognizing the Innovation & Creativity of Non Profit Organizations


In keeping with this tradition, Duncan Craig LLP has established the Laurel Awards to honour non profit organizations who further their objectives through exceptional creativity and innovation.
1994 marked 100 years of continuous practice by Duncan Craig LLP in Edmonton. The Laurel Awards are a celebration of this centenary and of the firm's ongoing commitment to community service.


2016 Winners

| | | |
| --- | --- | --- |
| | GOLD | Dreams Take Flight EdmontonDreams Take Flight Edmonton |
| | | Our flight happens annually and our goal is to take at least 110 deserving children with us to Disneyland each year. Although Air Canada generously donates the aircraft for the day and the pilot and flight crew are volunteers, everything else must be fundraised or donated. Our annual budget is $180,000 and covers fuel for the plane, park admission, food costs for all meals and snacks for the day, a complete set of clothing for each child (including footwear, socks, hats, shorts, t-shirt, sweat shirt, sunglasses and hat) as well as spending money for each child to purchase special souvenirs. The costs to run our project each year continue to increase - fuel, park admission, the US dollar. All of these factors have an impact on our ability to take the number of children that we do. Due to this factor, we are never able to plan our trip more than one year in advance, and some years, we come very close to rethinking some of our purchases or strategically discussing how to stretch every dollar. |
| | SILVER | Edmonton Bicycle Commuters SocietyYou Can Ride 2 Borrow a Bike Program |
| | | |
| | BRONZE | Gateway AssociationYouth in Care Employment Project |
| | | |
| | STAFF CHOICE | Humane Animal Rescue Team (HART)Shelter from the Storm Program and the Food Program |
| | | |
| | AUDIENCE CHOICE | Canadian Mental Health Association - Edmonton RegionIntegration of The Support Network and CMHA |
| | | |
Below are some of the organizations we have been proud to support over the past year. Often these organizations are also supported by the efforts of lawyer or staff board members or volunteers. Some of these are organizations that are working to find cures or solutions to problems that have affected the lives of our people. We recognize that there are thousands of organizations doing amazing things that positively affect Alberta's lives. If you are interested in being considered for support by Duncan Craig, please do not hesitate to contact our Community Relations department to receive more information about how to apply to our Laurel Awards.
630 CHED Santas Anonymous
Alberta Cancer Foundation
Alberta Lawyers' Assistance Society
Alzheimer Society of Alberta and NWT
Barrhead Animal Rescue Society
Boys & Girls Club Big Brothers Big Sisters
Brain Care Centre
Canadian Breast Cancer Foundation
Canadian Red Cross
CASA Foundation
CEASE
Crohn's and Colitis Canada
Diabetes Canada
Drayton Valley Community Foundation
Ed Stelmach Community Foundation
Edmonton Columbian Choirs
Edmonton Community Legal Centre
Edmonton Firefighter's Burn Treatment Society
Edmonton Folk Music Festival Society
Edmonton Humane Society
Edmonton Meals on Wheels
Edmonton Poppy Fund
Edmonton's Food Bank
Eleanor Pickup Arts Centre
Heart & Stroke Foundation
Hope Mission
Humane Animal Rescue Team (HART)
Infinite WOOFS Animal Rescue Society
Kids Cancer Care Foundation of Alberta
Kids with Cancer Society
Little Warriors
Mazankowski Alberta Heart Institute
MS Society of Canada
Muscular Dystrophy Canada
Mustard Seed Edmonton
PAWS for Life Foundation
River Valley Alliance
Ronald McDonald House Charities Northern Alberta
Salvation Army
Second Chance Animal Rescue Society (SCARS)
Shadow Theatre
Stephen's Backpacks Society
Stollery Children's Hospital Foundation
University of Alberta Community Service Award
WECAN Food Basket Society
WIN House
Youth Empowerment and Support Services
There are currently no Awards available at this time.
There is currently no news available at this time.
Duncan Craig in the Community
Philip J Renaud, QC
Chair, Community Giving Committee